Short Study Tour Program
ZUST Summer Study Tour 2020
Duration: From August 10 to August 23 for two weeks.
Class minimum number: 10

students
Objective
To learn the daily spoken Chinese language, experience the rich and ancient Chinese history and culture as well as the high-speed development and changes of modern China and visit famous scenic spots in China.
Two-week study tour not only allows you to view the profile of China as a tourist, but also allows you to penetrate the real Chinese world as an insider and live with the culture.
Itinerary
Students will stay at ZUST for 14 days to receive Chinese language training, learn about arts and culture like Chinese painting, calligraphy, paper cut, Chinese knot,tea culture, food culture and so on. Visits to must-go places in Hangzhou like the West Lake, Ancient Historical and Cultural Hefang Street, Song Dynasty Town will be well-arranged for students. Visit modern city Shanghai, Hangzhou local museums and local enterprises.
Fees
6800 RMB
Includes: Tuition, Accommodation (double room), and Visits, Trips, Pick-up & Send-off service from and to Shanghai Pudong International Airport.
Notes:
1. Extra fee is required for a higher standard room.
2. Meals are self-paid. Students can have meals in the canteen and cafeteria on campus, which costs RMB 15-20 Yuan per day.
3. The fee could be slightly different if the group number is less than 10.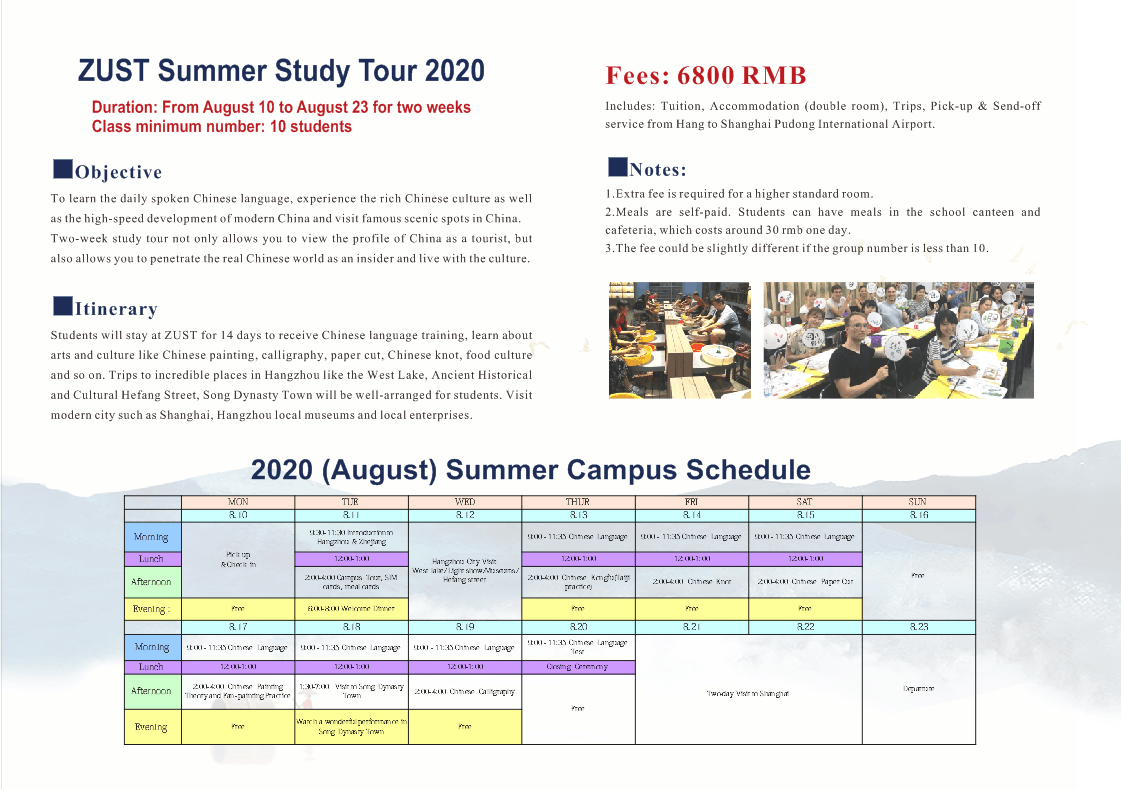 Contact:
Ms.Silence
Tel: 0086-571-85070141 0086-571-85070080
Email: internationalstudy@163.com
Website: http://ies.zust.edu.cn/en/

附件【

ZUST Summer Study Tour 2020.pdf

】